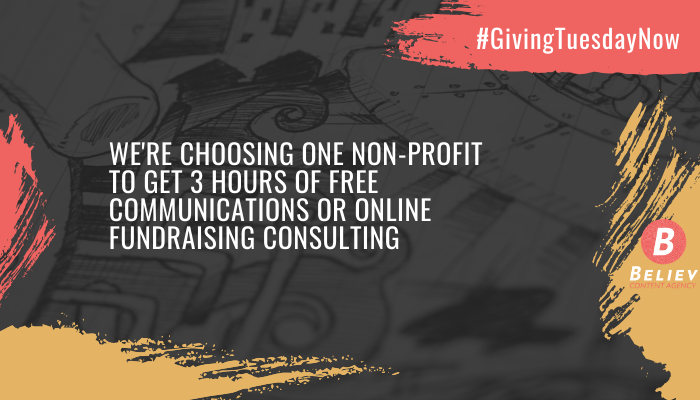 We want to give back to organisations like yours this #GivingTuesdayNow.
So, we thought we'd give away three-hours of consulting time to one non-profit. 
We'll pick one submission to win three hours of consulting from Believ Content Agency. The way the consulting looks will be shaped to a certain extent by your problem. However, we envision it to look something like:
A 45-minute initial Zoom consultation to understand the problem.
90 minutes of us developing a solution and creating a plan that you can follow to solve your problem.
A 45-minute Zoom consultation sharing the solution and implementation plan with you.
The more clear you are about the problem you need solved, the better we'll be able to see if our skills align with your problem.
There are certain types of people and causes that Believ Content Agency really works for…and others who aren't the best match. Let me explain each really quickly so we're on the same page.
We get awesome results for…
Non-profit fundraisers and marketers who feel overwhelmed by all the everything they need to do and are looking for ways to do more with less.
Causes who are starting out and want to learn how to market themselves and fundraise effectively.
Causes who are comfortable with working remotely.
On the other hand, we can't typically help causes…
Who are looking for quick fixes or viral crazes to grow their funding or supporters. Our strategies don't work unless you do.
I'd like to hope you fit snugly into that first category if so hit "apply now" and let's see how we can make your #GivingTuesdayNow!
*All submissions will be considered by Believ Content Agency. Believ Content Agency may select the submission that they feel they can best help but reserves the right not to award the consultation if there are no suitable submissions. Entries close on 8 May, 2020 at midnight.